The Society have been pleased to help fund and to provide technical support enabling information boards to be erected on Clevedon sea front which highlight the unique local geology. Clevedon Pier and Heritage Trust has just issued the following press release:
Clevedon Pier and Heritage Trust are very pleased to announce the installation of three public Information Boards on Wildlife, Geology and Minerals. Each Board is supported by a more detailed account of the subject on the Piers web site which can be accessed directly by a QR code on each Board. The Boards highlight the rich landscape, geology and coastal ecology which can be viewed from the Pier and along the beach, including the Site of Special Scientific Interest (SSSI) adjacent to the Pier's toll house.
The Boards were generously funded by the Architectural Heritage Fund, the Geologists Association and the Russell Society and were supported by inputs from Roy Starkey and David Green (The Russell Society), Jonathan Larwood (Natural England and the Geologists' Association's Curry Fund) and Mark Ward (Somerset Wildlife Trust). The Geology Board features artwork by Bob Nichols. The Mineral Board was manufactured and designed by Querceus. The Wildlife and Geology Boards were designed by Emily Moran, featuring her original artwork, and manufactured by CE Signs Clevedon. North Somerset Council supported the project and installed the boards.
Further information can be found here.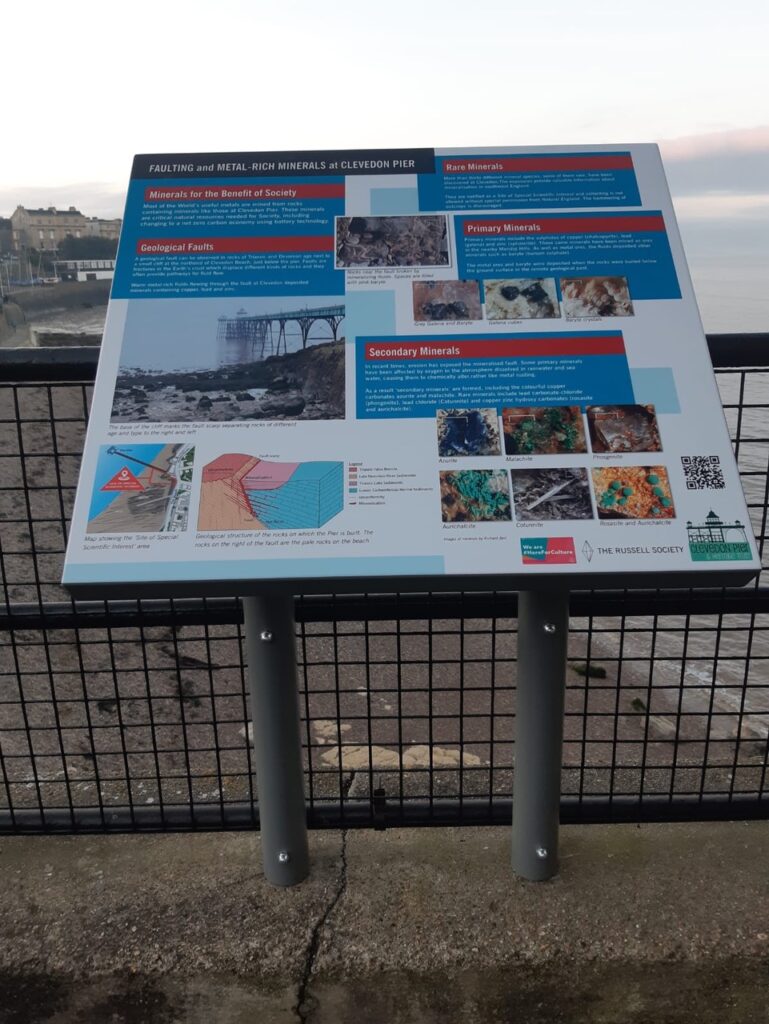 Inspired by the geology information board local author Peter Gibbs has written the following poem:
Really, Really Old Clevedon
A long, long, long, long time ago
Before we all were here
You would have found our Clevedon
In Southern Hemisphere
But not as we would know it now
No bouncing kangaroos
No surfers out on Bondi Beach
Not somewhere you would choose
Although the sea was warmer then
An ocean tropical
Forming Mendip limestone
Which we see now so tall
Then continents collided
With an almighty crash
I'm sure from many miles away
You would have heard a splash
Mountains formed, then wore away
The climate took its toll
Our place it headed northwards
Towards another pole
The water turned all salty
Our ocean now a lake
Where dinosaurs on holiday
Could take a welcome break
Two-twenty million years ago
Our beaches they enjoyed
Before they were extinguished
By mighty asteroid
Devonian rocks beside the pier
They have a tale to tell
Our time is oh so fleeting
So we must use it well.