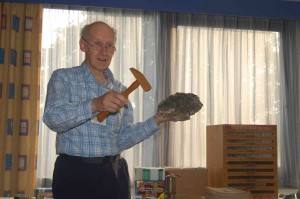 Trevor Bridges will undoubtedly have been known to many Society members, but for those who were not privileged to have met Trevor the following notes are intended as a brief tribute.
Trevor was born in London and grew up in Yorkshire. He trained as a Chemist and Chemical Engineer, gaining his degree from the University of Birmingham, a specialism of which he was justly proud, and a subject for which he had a great affection. He met his future wife Shelagh through the Coventry Mountaineering Club, and they were married in 1963.
As an ambassador of "science for the citizen" there are few who could surpass Trevor's tenacity and enthusiasm, and he relished the prospect of educating non-chemists in the ways of the elements. A long-term employee of the Courtaulds Group, Trevor worked initially in the Midlands, but in 1981 moved north to take up an opportunity on Tyneside at International Paint, a member of the Group. Here, Trevor was in his element. He took a special interest in the mineralisation of the Northern Pennine Orefield, and together with others was instrumental in the establishment of the Russell Society's Northern Branch in 1984, the first beyond the confines of Leicestershire.
Trevor's professional life saw him grappling with improving the production efficiency of a complex paint polymer manufacturing plant at Felling, near Gateshead, and latterly in a key role as the site's Health and Safety Consultant, making a real impact on people's lives and well-being, something which gave him immense personal satisfaction.
Minerals, and the chemistry of minerals, occupied a huge part of Trevor's life, and his family shared in this interest as a matter of course. There was, however, much more to Trevor than simply collecting minerals, he was an accomplished climber and mountaineer, a Munroist (Compleator number 1953) in the Scottish Mountaineering Club Register in 1998, and a passionate and knowledgeable birdwatcher.
Never seeking the limelight, Trevor worked quietly on the subjects that interested him, and was always happy to explain, often complex, chemical matters to those less informed than himself, and using terminology that helped the listener to grasp the fundamentals of what was being discussed. He published a considerable number of scientific papers, and often commented to me that he had not had time to write up as much as he would have liked. Many of his publications focused on supergene mineralogy, particularly in relation to northern England, the field in which Trevor carved a niche for himself. He had a particular fascination with barium mineralisation, and also brought his expertise in stability field diagrams to bear on helping to interpret the complex geochemistry of the lead oxychloride assemblages in the Mendips. A recurring theme in Trevor's collection is "specimens with stories about their formation" – look out for these amongst the various lots.
Trevor will be remembered by many as an educator and teacher. He was a popular speaker to various mineral and geological groups, and in 1993 Trevor was only the second recipient of the Russell Medal, something which pleased him greatly. Trevor's mineral collection numbering some 6000 specimens has been dispersed in a number of different directions – to the Hunterian Museum, the Oxford Museum of Natural History, the National Museum of Wales, the Hancock Museum (Newcastle Upon Tyne) and the Natural History Museum. The auction lots comprise the bulk of his more aesthetic display specimens.
He has truly left a significant mark on the world in the field of mineralogy and he will long be remembered for his generosity, his enthusiasm and fair minded approach to life.
Roy Starkey – June 2015